I would admit this: Nokia might be the most influential tech company of all time. I believe that most people on the globe have been touched in some way by Nokia, whether they currently own a Nokia device or not.
Like many people, I was a Nokia fanatic at one time. Just see the list of the Nokia sets that I have owned: 6233, N80, 6120, N81, N82, 5800, N97, N900, X1, X2. To gauge the intensity and..er...fertility of this marriage, consider this: I bought my first Nokia set only in February 2007. Do the math.
Interestingly enough, I started out as something of a Samsung fan. I was well enamored with their feature phones having polyphonic ringtones and those lovely blue screens. After starting out with the rather lovely N500, I moved up gradually, with my final Samsung set being the X820 (the world's thinnest phone at that time). On the second day of joining a big oil company, I dropped it in the toilet. Adios, good guy.
That forced me to consider my options. I hated Nokia at that time, because everyone was in love with it. To me their designs looked horrible compared to the sleek offerings from Samsung. However, a friend bought the 6233 and it opened up my eyes. Take a look:
The phone was handsome, had the best sound in the business, was pleasantly heavy and well finished and had a cracking QVGA screen. Please remember that in 2007 a QVGA screen was da bomb. Also I was attracted to the S40 OS, which, while not smart, had a large ecosystem and had some very advanced functions, such as java support.
A few months in, though, the size and weight of this beast started to bother me. I thought, if I had to carry such a heavy phone, shouldn't it have more functions? That attracted me to the N-Series, specifically the N80.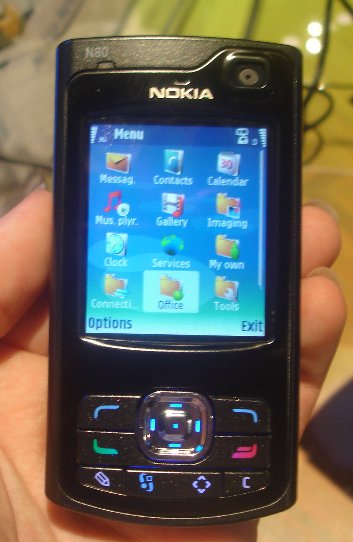 The N80 was my first taste of a smartphone and I rather fell in love with Symbian, at that moment the most powerful smartphone OS. I loved the power and the flexibility. Please note that phones back then weren't used for web browsing or media consumption, but rather for calls, messages, photography and maybe playing games.
Then Nokia launched the 6120 Classic, at that time the world's smallest and lightest smartphone. With the same processing power as any NSeries, a thin and light body, and a cracker of a price (Rs16,000), I bought that phone right at launch. It had a latter version of Symbian, and again it offered a lot of power and flexibility. I broke its d-pad playing endless sessions of 'Roland Garros' tennis by Gameloft, so I wrote to the Nokia Board of Directors via their website, complaining of the build quality. Incredibly, 15 days later I received a phone call from Nokia's local business partners and they offered to replace my keyboard completely free of charge. My love with Nokia as a company started to strengthen, seeing how it was in touch with its customers.
Then Nokia launched the N81, a self-proclaimed "gaming handset". Besides having a nice look and some extra gaming keys, the phone had little going for it in terms of gaming credentials. Funnily enough, for just Rs2,000 more Nokia were selling the N82, which had a hardware accelerator, a 5 MP camera with a Xenon flash, and the looks and build of a tank. It took me two days to return the N81 and get the N82.
The N82 has been the best Nokia set I have owned. It's eccentric look satisfied my 'rebel tendencies', while its hardware and software offered endless ways to tinker.